BREEDER PRACTICES - For Puppy Buyers
Breeders have different objectives and reasons for owning dogs and producing litters of puppies.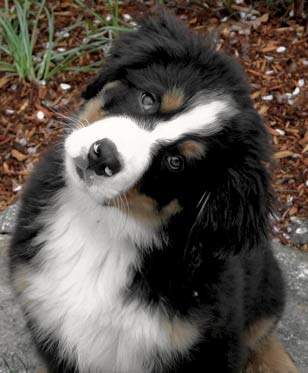 At this time it is possible to obtain a Berner from a wide array of breeders. Please don't hit the panic button. It is not necessarily wise to get a dog from the first breeder you find with a puppy available. Thoroughly familiarize yourself with the differences that exist in breeders' policies, their focus and reasons for owning and breeding Bernese. The manner in which breeders transact the business of breeding and selling pups will be important for you to consider. Be clear about breeder services offered before and after the sale.
ABOUT BREEDER'S APPROACH AND FOCUS
Breeders engaged in perpetuating any breed should take the breeding of dogs seriously. The decision to produce offspring from a carefully selected breeding pair requires that both breeder and stud dog owner make every effort to ensure that progeny will be good examples of the breed.
- Breeders also make special efforts in selecting homes for their pups so they will live happy lives with people who appreciate their value and will provide necessities for the pup to develop and maintain a good life. - Open, honest sharing of facts concerning health, structure, temperament and type characteristics of BMDs is essential.
- Every breeding dog came from a family of dogs. Understanding all assessable traits possessed by families of dogs, in addition to accurate evaluation of traits possessed by individual dogs used for breeding is critical to insuring a promising future for the breed.
- Puppies should be carefully evaluated and placed by the breeder. Puppies placed as future breeding stock should be assessed in terms of their potential to contribute positively to the gene pool.
- Breeders placing a dog as breeding stock must assume the responsibility for ensuring that the new owner is committed to applying standards and management practices that will enhance breed welfare. - Puppies that are evaluated prior to placement and deemed to be lacking in breed characteristics sufficient to be used as future breeding stock should be sold on spay/neuter contacts and AKC Limited Registration.
- Effort should be made to determine that the owner's management and home will be adequate to meet the dog's needs and NOT result in the dog becoming a public burden or nuisance.
-Breeders should define for themselves and others their priorities and purpose for breeding BMDs.
Does the breeder of your puppy fit the description?
Responsible breeders do...
√ Provide safe nurturing conditions for their dogs and for any dogs they place with other owners
Why is it important?
► Because the welfare of BMD's should be the paramount goal of any Bernese Mountain Dog breeder.

√ Learn about your interests and goals in dog ownership
Why is it important?
► Because if the breed or individual dog and its owner aren't well suited to each other, the dog could develop behavior or health problems causing the owner and the dog to be discontented.

√ Know their family of dogs well and will not place a dog before they know if a dog is a good match with the lifestyle and expectations of the buyer
Why is it important?
► Because every family of dogs possesses unique traits and has its own particular management concerns which affect the dog's suitability for its owner.

√ Are committed to developing and sharing information on BMD health and management issues
Why is it important?
► By having a resource, who can offer valuable dog management advise, you can save time and money, and maximize your effectiveness training and-caring for your dog.

√ Believe it is important to have extensive information on the health, structure and character, plus any other useful information about their dogs and those dogs' ancestors, before undertaking any breeding
Why is it important?
► Because you are more likely to get a dog that will live a long life in good health, if breeding dogs are paired to maximize family strengths and minimize family weaknesses

√ Will never tell you that their dogs come from pedigrees with no health problems
Why is it important?
► The fact is, ALL BMD pedigrees contain dogs with good and problematic traits. A breeder who is able to assess and represent an accurate picture of their breeding program is realistic and honest

√ Will try to gather and share pertinent genetic information on their breeding dogs, which includes (but is not limited to) providing, upon request, copies of certifications for hips, elbows, eyes, heart, thyroid, and von Willebrands disease as issued by recognized registries such as OFA, GDC, CERF, etc...
Why is it important?
► When dogs produced, from a well executed breeding strategy, undergo genetic screening, the information can be applied by the breeder to make breeding choices that minimize faults in ALL dogs, both future breeding animals as well as those placed as non-breeding pets.

√ Will not sell breeding/show stock to owners who are not seriously interested in pursuing those objectives
Why is it important?
► Breed/show stock often cost more and require a considerable commitment of time and resources by both the breeder and the owner

√ Provide you with a pedigree of the puppy, including health, structure and temperament information on the parents and ancestors
Why is it important?
► Because the depth of pedigree information that a breeder has and provides allows both the breeder and you to have a firmer grasp of what can be expected in puppies and adult dogs

√ Provide you with a written contract before there is any exchange of money, including a deposit
Why is it important?
► It is important for you to have a written record outlining the breeder's and your responsibilities, including definition of what kind of dog and services you are paying for.

√ Will clarify, to your satisfaction, any unclear contractual obligations or any notable conditions which could act to nullify or change any guarantees
Why is it important?
► Allows you to be assured that the contract you will sign, at the time you get your dog, is a workable and acceptable agreement between you and the breeder.

√ Provide you with copies of AKC registrations for both the sire and dam
Why is it important?
► Proves your puppy is a purebred BMD, and further, that the parents of your dogs were registered as breeding stock animals with the AKC

√ Take pride in how their dogs are kept and will have no problem with you scheduling a visit to their property
Why is it important?
► Allows you to meet the dogs and their owners so you can see the conditions and assess the character of the breeder and their dogs

√ Will never sell pups or dogs to agents, brokers or pet shops
¿Why is it important?
► Because the resellers' focus is not the welfare of dogs but is for the resellers' financial gain

√ Accept lifetime responsibility for dogs they place, including assisting in re-homing a dog if necessary
Why is it important?
► No breeder should ever be responsible for adding to society's burden of unwanted, homeless animals.

√ Will provide veterinary references and/or references of people who already own dogs from the breeder.
Why is it important?
► Vet references or references from people who have actually bought dogs from the breeder allow you to get someone else's view of that breeder.

√ Should always try to be available to answer questions and encourage you to share information and comments you have about your dog
Why is it important?
► Provides you with a breeder who cares about the kind of dogs they produce and one who is interested in helping you with your dog.