Substance or flash?
What's in an ad? Big beautiful Berner pictures. Gorgeous fluffy puppy pictures.
Check out THE BAIT.
∇∇∇∇∇∇∇∇∇∇∇∇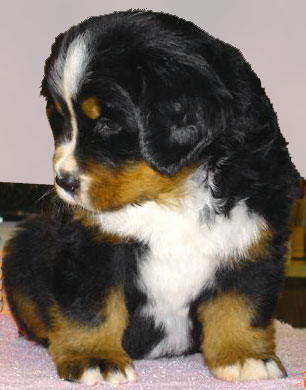 What kind of information do you find on breeders' websites?
The pictures are soooo cute, nice dogs.
The text you found on the website says...
"Big Beautiful Berner puppies ready soon. These dogs are our pets. The puppies will have the original Bernese Mountain Dog "look". Big boned, bear heads, beautiful thick coats. "Champion lines" and "show quality" price includes shipping. Please contact us for more information and more pictures."
Price: $ 1,100 USD.
Looks good. Sounds better. RIGHT?
The pups are raised to become your pet. They come from "Champion" lines. They are big, have nice heads, thick coats, and can be bred so you can get your investment back. The pups are only $1100.00.
Call 'em up.
Wow, this breeder sounds so nice on the phone. He tells you the puppies are AKC registered, guarantee against defects for up to 1 year. The baby's dewclaws have been removed (but you see in the pictures that the mother still has hers); the pups are wormed and if you come and get the puppy this breeder will release the baby Berner at 6 weeks, other wise you'll have wait till 8 weeks for shipping.
Guaranteed against defects. Hot dang, that's a great deal. Gotta love a guarantee.
Huh??????? What defects? The breeder wasn't too specific, but you are going to get a contract with the "guarantee". No worries.
Does that kind of guarantee have a dozen automatic escape clauses? Will the breeder you choose blame the lameness, the shyness, the allergic reaction to vaccines on you, the new owners? Will the "guarantee" be void based on the food you fed the puppy, or because you let the puppy walk on stairs, or the myriad of things that breeders use as 'outs' in their 'contracts'?
You fell for it.
While on the phone, did the breeder mention anything realistic about health or orthopedics in their dogs? Or are all their dogs perfectly healthy, all sound? Really!!! Is that right? Take two. You can breed them later. Maybe you'd like to purchase some swamp land in Florida. A representative will be calling.
Did the pages on the website show you a pedigree? Did the breeder mail you a pedigree? NO!!! Why not? Isn't the family of dogs from which your puppy comes known or worth knowing too much about?
Does the breeder mention genetic testing done on the pup's parents? NO!!! Guess that's not too important. Even with all of the orthopedic, heart, thyroid, eye and malignancy issues this breed faces, your puppy won't inherit any of these conditions because ALL the dogs in your puppy's family are healthy, not a bad one in the bunch. Or will it?
Happy surfing.
♥♥♥♥♥♥♥♥♥♥♥♥♥♥♥♥♥♥♥♥♥♥♥♥