Conformation Showing - Bernese Mountain Dogs
If you think you might be interested in showing your Berner in AKC Conformation the first step is to talk with the breeder of your dog. Many Bernese breeders participate in AKC events and can advise you about the best ways to get started in conformation showing. A breeder's advice can save you time and money. Your Berner is 'perfect' in your eyes, but many novice owners are not well equipped to evaluate the qualities which make a dog a good candidate for showing in AKC conformation shows. Ask your dog's breeder to take a look at the dog prior to the time you plan to enter him/her in an AKC conformation show. The breeder should be able to evaluate your dog and let you know if they believe the dog possesses the characteristics that judges will appreciate and award. Whether participating in or attending a dog show as a spectator, there is much to be learned about the variable qualities Bernese possess.
AKC's Beginner's Guide to Dog Shows is a good place to begin if you are new to the world of showing dogs.
Also see AKC's Getting Started Showing
AKC Dog Shows - Placements and awards
In conformation shows, judges evaluate and award placements/ribbons to dogs entered in the show according to how closely a dog conforms to the Breed Standard. If you are not sure about what kind of characteristics and qualities Berners should possess as they are described in the Bernese Mountain Dog Breed Standard see the pictures contained in the Berner Illustrated .
Advice and tips
Bernese Mountain Dogs come in many shapes, styles and sizes. Each judge brings a unique perspective to evaluating and awarding dogs. Winners one day may not win the next day under a different judge or if shown in a different group of dogs. That's dog showing! But do keep in mind if you hope to win awards, a well bred Berner that is likely to be competitive in AKC conformation events has the body structure and style that compliment the work for which the dog was bred. In the case of the Bernese, the standard describes a dog capable of performing a variety of tasks, a balanced dog intended to function as a working companion animal. The quality of coat and symmetrical tri-colored markings add to the breed's functional purpose and aesthetic appeal. The standard also describes the temperament of a Bernese. Bernese should appear as alert, steady, calm and workable companions.
The sport and sportsmanship
Owner, breeder, handler Bobbi Kinley-Blewitt (Adessa Bernese Mountain Dogs)
and her Berner 'Char' having fun at the Eukanuba Dog show.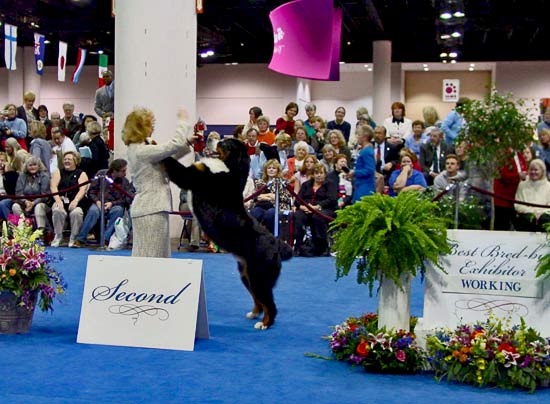 Winning in the show ring is only a small part of dog shows. Whether showing a puppy, an adult dog or a veteran, the main thing is that dog and owner enjoy the show experience and HAVE FUN! For dog breeders, dog shows are about seeing groups of dogs and learning to recognize each dog's strengths and weaknesses with an eye to making breeding decisions that influence the qualities a breed will come to possess.
Novices - Be prepared to train
Presenting a dog and showing the spectators and judge the dog's best qualities is not as easy as it looks. A foundation of training and presentation techniques is needed for those interested in participating in conformation shows. Local all breed clubs and private training facilities as well as Regional Bernese Mountain Dog clubs offer conformation classes and/or fun matches where novice handlers and dogs can polish their skills. Practice and offering exercise and physical conditioning opportunities to the dog you plan to show are two of the best ways to create a pleasant picture of your dog in the conformation ring.
Showing dogs not only requires that a dog and handler be well prepared. When making decisions about how to manage a dog's show career an owner must consider time and expense involved in entering and getting to and from events, whether their dog is competitive among the group of dogs currently being shown and how their dog is performing. Every owner will view things according to their own priorities.
Who handles (shows) the dog?
Options for showing include handling your own dog or hiring a professional handler. Professional handlers have established ways of doing business with their clients. Some pick up dogs ringside from owners while others keep the dog for the weekend or for many weeks or months while the dog is being shown. Should you choose to hire a professional handler, especially one that will take your dog on the road to dog shows, make sure that you have a clear understanding of how your dog will be living while in the handler's care.
Professional handlers often can achieve winning results more quickly than novice handlers because they have spent years learning how to present each dog they handle to accentuate the dog's strong points. But please keep in mind that the Bernese Mountain Dog's exceptional connection to their own people makes competently presented dogs working to please their owners an absolute joy to observe. There is nothing more satisfying to increase connection between dog and owner than when an owner chooses to prepare and present their own dog.
BOOKS on SHOWING
Born to Win (Craig Trotter)
Dog Eat Dog: A Very Human Book (Jane and Michael Stern)
Tricks of the Trade: From Best Intentions to Best in Show, Revised Edition (Pat Hastings)
Raising a Champion: A Beginner's Guide to Showing Dogs (A. Meredith John; Carole L. Richards)
About Dogs and Dog Shows (Stern & Stern)
Junior Showmanship from Hand to Lead (Miller)
Show Me! A Dog Showing Primer (Coile)
The Winning Edge (Alston)
The books can be purchased through Amazon.
Find Dog Shows
Check out the AKC's website for dog show events information; specifically look through events search.