Pedigrees - The importance of a Berner Puppy's Family Tree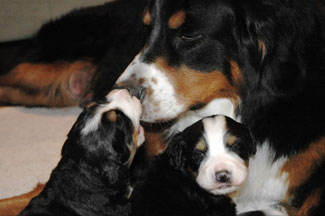 A pedigree represents a family. The names contained in pedigrees represent real dogs. How the dogs in your puppy's family tree lived, their temperaments, their physical capabilities and how and at what age they died has a bearing on your puppy's health, structure, soundness and temperament. All puppies are cute. What you see in a 7 or 8 week old puppy doesn't tell you too much about the genes the puppy carries. The pup inherited its genes from its family.

Most people are looking for a breeder that will sell them a healthy, happy pet. Take a look at the BIG HEALTH PICTURE page to get an sense of health challenges that affect some Bernese. Many inherited health conditions and orthopedic defects aren't readily apparent until a pup reaches 6 months of age or older.

The health and temperament of the dogs represented in the pedigree of your puppy has a direct influence on whether the dog has a good chance of growing up to become the healthy, happy dog you were looking for or a dog that grows up into a pet that costs you time and money to provide medical care, special food, surgeries or medications just to keep the dog comfortable. Ask the breeder from whom you plan to buy your Berner about the pup's ancestors. And ask to see a pedigree. Many reputable breeders know a great deal about the dogs represented in the pedigrees of the dogs they have chosen to breed. Some breeders can provide prospective puppy buyers with a puppy's pedigree which shows pictures of ancestors, and lists age and cause of death along with orthopedic certifications for hips, elbows, eyes or other genetic tests for dogs represented in the pedigree.
Berner puppy buyers are encouraged to visit Berner-Garde and do a "People" search to verify that the breeder of their pup participates in submitting health and pedigree information on their dogs.
The pedigree ('in plain English') shown below is meant to bring to light some of the key issues Bernese Mountain Dog puppy buyers should be concerned about when asking a breeder about dogs represented in a pedigree.
Pedigree for a Bernese Mountain Dog Puppy - This is a fictitious pedigree.
My new puppy girl



Date of Birth 12/20/2006
Where was I raised?
What am I going to grow up to be like?
Will I be healthy?
Will I limp?
Will I live a long time?
Should I be bred?

The Puppy's Father


Is he registered with AKC?
How old is he?
Does he have hip or elbow clearances?
Has he had any genetic testing done?
What kind of temperament does he have?

The Puppy's Paternal Grandfather


Was he a big dog?
Is he still alive?
Did he have allergies to food?


The Puppy's Paternal Grandmother


Did she have c-sections?
She's still alive at age 12 and so are all her sisters.
She produced lots of conformation champions.


The Puppy's Mother


How old is she?
How are her littermates doing?
Has she had other litters?
Does she have a good temperament?
Was she easy to train?

The Puppy's Maternal Grandfather


He retired at age 5 and was a top winning AKC champion.
He had surgery for bloat at age 2.
His offspring from 20 litters had good orthopedics, many got hip and elbow clearances from OFA.

The Puppy's Maternal Grandmother


She died at age 3 of cancer.
All her littermates had health problems, most died before age 7.
She had 2 litters; several went to breeders.