Bernese Mountain Dog Regional Clubs, Rescue groups
Websites / Breed Rescue – Rehome
If you can no longer care for your Bernese Mountain Dog or you are considering adoption of a 'rescued' Berner, contact a Regional Bernese Mountain Dog Club. The Regional Clubs' Rescue-Rehome programs goal is to place 'rescued' Bernese Mountain Dogs with families that are a good match for the dog. Ongoing support for owners of adopted rescue dogs is available.
Keep in mind rescued Bernese Mountain Dogs come with a "past". Some dogs are turned over to rescue because their owner's have not provided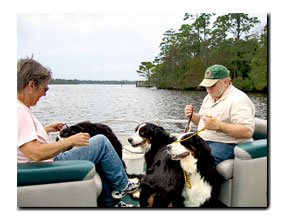 good training or management. Reasons people give up their pet might include such things as - the dog is too big, too boisterous, too hairy, has 'behavior' issues, is too active, needs more exercise or has health 'issues' like allergies or digestive problems. Sometimes owners turn over well trained, socialized family pets to Regional Club rescue because their personal circumstances have changed and they can't keep their dog anymore.
Regional Club Rescue Programs rescue dogs:
— Are evaluated for temperament and general condition and are vet checked prior to placement.
— Are typically spayed or neutered prior to placement.
— Adoption fees may apply.
— The number of dogs available through Regional Club Rescue programs varies. Typically clubs rescue 2 - 30 rescues per year (2007).
— Age of rescued dogs available for adoption varies - while dogs under 1 year of age are available occasionally, it is more common for rescue dogs to be 2-5 years old. 'Seniors' are also occasionally available for adoption.
See the Regional Club websites for more information on procedures for adoption and availability of rescue dogs from Bernese Mountain Dog club rescue programs. The Regional Club Breed Rescue contacts have up to date information on Bernese Mountain dogs that are available for adoption.
See BMDCA's Rescue page| Regional Club contacts below.
Other Berner Rescue Groups
BARC (Bernese Auction Rescue Coalition, Inc.)
BARC, Inc. is a non-profit corporation dedicated to rescuing and rehabilitating Bernese Mountain Dogs from dog brokers, dog auctions, puppy mills, and any other dangerous, exploitative or abusive situation.
Web Site: https://barcinc.net/
Thirdtyme Rescue
Geographic Area Served - Ohio
Web Site: http://www.petfinder.com/shelters/OH437.html

Phone: 614-205-9429
email: BRNRMOM@aol.com
The following individual may be able to provide rescue advice/networking/assistance.

For information on Bernese Mountain Dog Rescue in Arkansas contact Gail Miller - email

For more extensive information on the national network of Regional Club Rescue programs click here.