Before buying a Bernese Mountain Dog...
Have you thought about these things?
Bernese are big, hairy dogs.
Male BMD's typically range in weight from 85 - 120 pounds; females from approximately 70 - 100 pounds.
Ask yourself...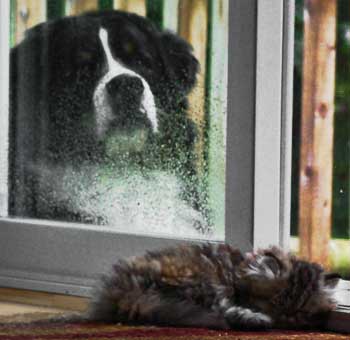 Can you provide a Berner with opportunities for exercise?





**Considerations**


A common question puppy buyers ask is, how much exercise do Bernese need? Answer: Depends on the Berner. Several on leash walks per day or at least two 15 to 30 minute off leash play periods will provide most adult Bernese with an outlet for their energy. For some this would not be adequate. Striking a balance between your lifestyle and schedule and the activity requirements of your dog at various stages of development is challenging to many owners. Bernese can be quite active and energetic, but they are not likely to self exercise adequately in a yard alone. Some Berners are happiest when resting and need encouragement to get moving! By providing a Bernese with exercise that meets his or her needs owners can expect to have a calmer, contented, healthier house pet. Playing 'Go fetch" is a great activity for some breeds of dogs - not so with most Berners. A typical Berner might chase a ball a couple of times, stand over the object and look at the owner who threw it as if to say "See, I saw, I followed, I found it and aren't I smart". No further action required!
·

What about exercising with other dogs?


Often owners believe another dog will serve as an exercise companion. Some dogs play well together, but some do not. Dogs roughhousing and playing together can be a great form of enjoyment and exercise. But supervision is required to prevent overly excited and exuberant dog pals from hurting each other.
Would a Berner do well with your other pets?




**Considerations**


If you do not have other pets it will still be essential for you to train your dog to behave well around other animals should the dog be exposed to them in your community. The presence of other pets can be a source of positive mental stimulation for some dogs. As a single pet owner you may need to find ways to provide your dog with activities to compensate for time the dog will spend without the camaraderie that exists in mutiple pet households If you have other pets it is important to recognize that all pets in your home need to get along. Bernese generally tolerate other animals. Interactions should be monitored to make sure your Berner understands how to behave so as to not aggravate or injure other pets. Especially when Berners are puppies they can be quite boisterous. They can become curious and challenging to other pets. Some Bernese can be aggressive towards other dogs or cats if not taught how to behave appropriately towards them. Sometimes pets that do not get along present significant management problems to owners.
·

What about Berners with cats, rabbits, guinea pigs, birds and other small pets?


Some Bernese have a strong prey instinct and so might chase smaller pets and potentially injure or kill them - it happens with some frequency.


NOTE:

If you have other pets tell breeders you speak with about the nature of the pet so they can take that into account in helping to select a Berner puppy for you and potentially help you address any issues that arise in a multi-pet household.