Do Bernese Mountain Dogs shed?

THEY SHED A LOT!!!!!
IT IS TRUE.
ALL this hair came from one 85# Berner!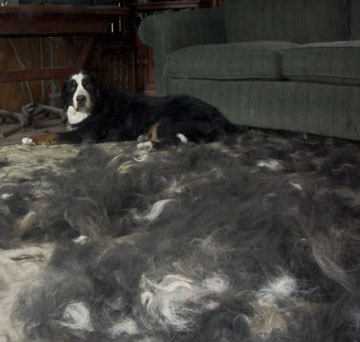 Berners are a double coated breed; they have an undercoat and topcoat. Combine their large size (80-110 pounds average) with an abundance of thick, long hair. Then try to imagine just how much coat a Berner carries and what it will be like when the hair isn't on the dog anymore and is floating around all over the place in your home.
If you are looking for a dog that does not shed a Berner is not for you.
Bernese ARE BIG HAIRY DOGS!!!!
THEY SHED!

THEY SHED ALL THE TIME!!!!
► Ask yourself if you have time to spend grooming your dog to keep hair in your home under control. A heavy seasonal shedding occurs once or twice a year. Even with consistent grooming there are times when 'Bernerfur' is an unavoidable fact of life. It gets on your floors, on furniture and it could even get in your food. If you don't have time, the strength or facilities and equipment needed to groom the dog yourself, be advised; professional grooming services for big hairy dogs can cost $100.00 or more per session.
► Ask yourself if allergies to hair might be a problem for your friends or any member of your family. Are you willing to have a lint brush handy for your use by your guests? Does the thought of dog hair in your butter bother you? Do you have the time to vacuum regularly or even daily when your Berner is REALLY SHEDDING A LOT?